Looking for a BETTER label solution for your closures?
Make Your Products Stand Out with In Mould Labelling
How IML Works
During the In Mould Labelling process a preprinted polypropylene (PP) label is placed in a mould. When molten PP is added to the mould, it fuses with the label as it cures and becomes a beautiful, durable closure.
Benefits of IML:
Outstanding Print Quality
Offset printing technique ensures high-resolution images, with up to 8 colors, for your labels.
Durable
In mould labels (IMLs) are humidity resistant and temperature stable—making them an excellent choice for frozen and refrigerated products.
Hygienic Scratches, cracks and wrinkles in labels or packaging can harbor bacteria. Closures with IMLs are scratch resistant, cannot crack or shrink and are not susceptible to wrinkles, which makes them more hygienic.
Shorter Production Time and Lower Production Costs
Closures with IMLs are produced in a single step—which means no need to transport or store blank closures.
Environmentally-friendly
IMLs and closures consist of the same material and can therefore be fully recycled.
Closures with IMLs are perfect for: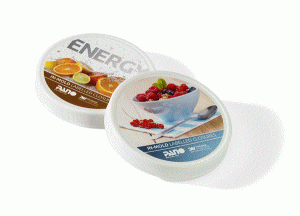 Butter, margarine and other spreads
Ice cream
Yogurt
Candy
Nutraceuticals and supplements
Cosmetics
Household & garden products
Paint
Tobacco
Choose from a range of finishes including glossy, transparent, or orange peel (satin gloss with a subtle orange peel texture). A variety of liners are also available. MOQ as low as 25.000 caps.
With more than 50 years closure design experience and 30 years closure mold design experience, Pano Cap Ltd. is ready to meet your packaging needs.
CONTACT US to order samples or for assistance choosing the right closure for your products.