Our changes = faster closure production!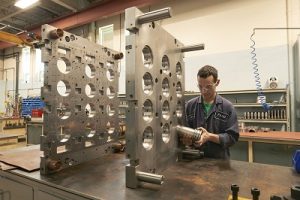 Recently, Pano Cap Limited added several new injection molding machines to our modern manufacturing facility in Kitchener, Ontario, Canada. With these additional machines, we have increased our manufacturing capacity, which allow us to produce a wider range of plastic closures for our customers.
We have also hired more machine operators, upgraded some of our tooling and are working on other automation and plant improvement projects.
With new machines, upgraded tooling and more staff, we have improved our lead times!
Pano Cap molding machines range from 100 – 500 tons and our lining machines . The Pano Cap Kitchener plant features robotic assembly and packaging and vision system inspection. Closures are manufactured in either polypropylene or polyethylene, including up to 100% FDA Approved post consumer resin, if requested.
Pano Cap has more than 50 years closure design experience and 30 years closure mold design experience. We provide 3D drawings and in-house 3D model printing. We deliver closure solutions for small, medium and large-sized companies in the industrial, nutraceutical/pharmaceutical, food & beverage, health & beauty, and pet product industries.
CONTACT US today for assistance choosing the right closure solution.