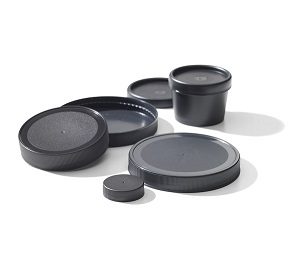 The plastic recycling industry hasn't always been widely accepted. This is often because early recyclers paid little attention to quality control, contamination, and durability of their products. However, Pano Cap has found KW Plastics in Troy, Alabama to be a manufacturer of high-quality recycled resins. KW Plastics is the world's largest plastics recycler and post-consumer resin (PCR) supplier for High-density polyethylene (HDPE) and polypropylene (PP). We are pleased to offer their KWR 621 FDA to our customers for environmentally friendly PCR closures.
In 2013 KW Plastics received a letter of no objection (LONO) from the U.S. Food and Drug Administration's Center of Food Safety and Applied Nutrition for the recycling process to produce post-consumer PP. The resin, commercially referred to as KWR 621 FDA, is a food-grade PP resin and has been approved for levels up to 100%.
The source material used in KWR 621 FDA is strictly controlled. It is derived from post-consumer rigid packaging items that have been diverted from landfill and recycled—such as yogurt and cottage cheese containers.
After it is delivered to KW Plastics the recycled plastic is inspected. It is then ground, washed, and stored in flake form. Subsequently, it is extruded into pelletized form and transferred to 200,000 lb blending silos where it is assigned a lot number.
To ensure impurities don't get into the PCR, after the post-consumer scrap is washed, it is extruded through vacuum-vented extruders that have been outfitted with state of the art Ettlinger Melt Filtration Systems that can filter to 200-microns. The resulting resin pellets are light gray in colour with some minor aesthetic surface imperfections such as specs or color swirls.
Through creative packaging design, the resulting plastic can be enhanced with darker pigments or the existing colour and variations can be a featured as a benefit to environmentally conscious consumers. As well, when light colors are required, smaller amounts of PCR can be blended with virgin PP.
KW Plastics reports that PCR is popular for personal care packaging such as: caps, closures, tubs, lids, razor handles, tubes, toothbrush handles, etc. Pano Cap has successfully manufactured containers and lids manufactured from 100% PCR material for Lush Fresh Handmade Cosmetics an international cosmetic manufacturer and retailer.
Contact Pano Cap to discuss using PCR in your next sustainable closure project. We can help you decide on the right mix of virgin materials to PCR, colour, and other specifications.
Committed to minimizing our environmental impact, Pano Cap is a zero waste to landfill company. Our closed loop system reuses all reground materials and recent plant improvements have reduced our carbon footprint. Read about Pano Cap's commitment to the environment.